Description
The aim of this course is to increase knowledge among early childhood educators, paraprofessionals and caregivers about theories and policies related to early childhood care and education. This is particularly relevant in the South African context, where community members implemented early learning centres, often home-based or in other sites like church halls.

When establishing a site or centre for teaching early childhood care and education, it is essential to have a firm grasp of the policies, theories and methodologies that are required.

This short course aims to equip you with this foundational knowledge so that you can successfully teach and assess the birth to 4 years age group.
Subject Matter Expert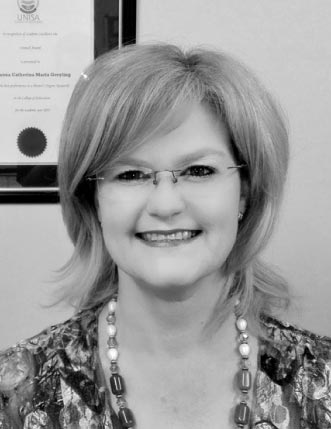 Susan Greyling is an Early Childhood Development and Education (ECCE) Lecturer in the Faculty of Education at the North-West University (Potchefstroom Campus).
She has foundational knowledge of approaches and teaching methodology in the field. Susan has a sound knowledge of curriculum studies in early childhood education and played a major part in developing the Grade R programme, having insight into curriculum development processes and extensive knowledge of theoretical framing of teaching and learning. Her research interests include Early Childhood Education as well as Educational Management, and she is currently busy with her PhD in Educational Management (UNISA), with the theme: Management training for Foundation Phase Teachers that strive towards Principal positions: Case study in the North West Province.
Academic Tutor Support
Your dedicated Online Academic Tutor (OAT) will provide you with necessary guidance, offer advice and answer questions on course content, to help you achieve academic success.
Course and Technical Requirements
BASIC REQUIREMENTS
To successfully access and complete this course, you will be required to have a registered email account, access to a computer/laptop/tablet and stable internet connection. You will be required to be familiar with using a computer as you may need to be able to read and download documents in Adobe PDF Reader, view Microsoft PowerPoint presentations, and read and create documents in Microsoft Word.
ADDITIONAL REQUIREMENTS
Our online short learning programmes may require additional software applications. These additional software applications requirements will be communicated to you in this information pack and/or on the website course page. Damelin Online does not provide any additional software applications required for online short learning programmes.
Please note: Google, YouTube and Vimeo may be used in our online course delivery. If any of these services are blocked in your jurisdiction, you may have difficult in accessing our course content.
How We Engage with Students
Our online short learning programmes are broken into self-paced manageable modules designed to be interactive and engaging:
The programme is available to be viewed on smart devices and includes mobile, tablets and personal computers.
Relevant case studies, articles and recommended reading are part of supplementary resources available.
Apply and evaluate what you have learned in each module with the self-grading quizzes and assignment submissions
View a range of Introductory course videos by your Subject Matter Expert.
Scheduled live webinars are included with the Online Academic Tutor.
Network, collaborate and interact with your fellow participants and Online Academic Tutor via the discussion boards.
Certification
Upon successful completion of this online short learning programme, you will be awarded with a Damelin Certificate of Competence.